Patrice Perret-Herscovici
25 years of experience in event organization.
After a master at Dauphine (1984) and a Post doctorate in Marketing at the IAE Aix-en-Provence (1985), Patrice Perret-Hercovici has made all his career in event organization :
8 years in SEPIC (became Comexposium) as marketing/sales manager and operations manager for events covering between  20 000 sqm and 100 000 sqm : Machine-Outil – Manutention – Interchimie – SITS – …
Owner and founder of Forum 7 (created in 1995) : events operations management (NetWorld+Interop  1996 – 2002).
Owner and founder of Infora (created in 2004).
He has managed the organization of more than 30 events national and international representing more than 1 000 000 sqm.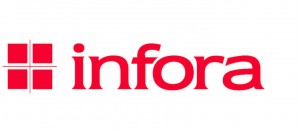 is a team of 7 persons, permanent or sporadic contributors, operating the 5 departments of Infora.
5 departments dedicated to trade shows professionals
Created in 2004, Infora offers services  dedicated to the event organization professional industry, congresses and trade fairs.
More information on www.infora.fr